"We are all faced with great opportunities
brilliantly disguised as impossible situations."
Charles R. Swindoll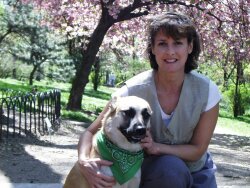 Harriet Rose graduated from Penn State University in 1977 with a Bachelor of Fine Arts in painting and drawing and in 1978 moved from the small town of Coatesville, Pennsylvania to the "Big Apple". In New York City she worked for a small design company hand painting fashions and in 1986 opened up her own Fashion Artwear boutique in Soho. There she painted designs on fashions for women, men and children until 1996. Custom paintings were also sold in various subjects from floral, oriental, landscape, animal, abstract, etc. and any other subject/style the customer requested. Since then she has operated her own calligraphy and hand painting business specializing in weddings, Bar/Bat Mitzvahs, corporate events, parties, diplomas, poems and custom designs.

Harriet has been featured on NBC's "Today in New York", WPIX "Talk of the Town", "The Learning Channel", "Travelogue in Tokyo", and featured in "New York Daily News," "New York Magazine", "Maxim Magazine," "The Associated Press", "The Village Voice", "Bride's Magazine", "Modern Bride Magazine", "Manhattan Bride", and "Better Homes & Gardens-Weddings", and the just released books: "The Perfect Wedding Reception" and "The Complete Idiot's Guide to Calligraphy".

She has taught Calligraphy and Painting classes at the Learning Annex and privately in NYC for more than 25 years.

Ms. Rose is a current member of the New York Society of Scribes, a guild for calligraphers.

References available upon request.
Calligraphy, Photography, Painted designs, Artwork and Text were created by and are the copyright property of Harriet Rose Calligraphy & Design. Any use, including duplication or alteration of any content within these pages, by any means or for any reason, commercial, personal and including Internet use is STRICTLY PROHIBITED without the written permission of Harriet Rose Calligraphy & Design.